For Aram Han Sifuentes, sewing is an act of resistance.
The act of sewing has been used by xenophobic humans to exploit immigrants by forcing them to work in the sewing and dry-cleaning industries. Non-citizen immigrants had to turn to sewing, despite having different and most times even more lucrative careers in their home countries, Sifuentes is reclaiming the act of this traditionally dehumanizing work to fight for the humanity of the oppressed across the US. Continuing the genealogy of the Asian American artists before her, she uses art as a force of protest, resistance, and giving voice to the minoritized.
Aram Han Sifuentes works to fight for recognition of complex humanity of all people, especially those who are othered. Deliberate in creating space for disenfranchised people and their allies to voice their humanity through art, she recognizes the artist in everyone. The history of marginalized people fighting for their humanity is older than the US itself. Han Sifuentes creates space for people to contribute to protests through the process of making fabric banners, and has fostered communities of people to express themselves in the making of these samplers [see below] or protest banners. Through her work, protestors are given materials, community and space to design and sew banners and house it in the The Protest Banner Lending Library, where people can use the banners for any purpose.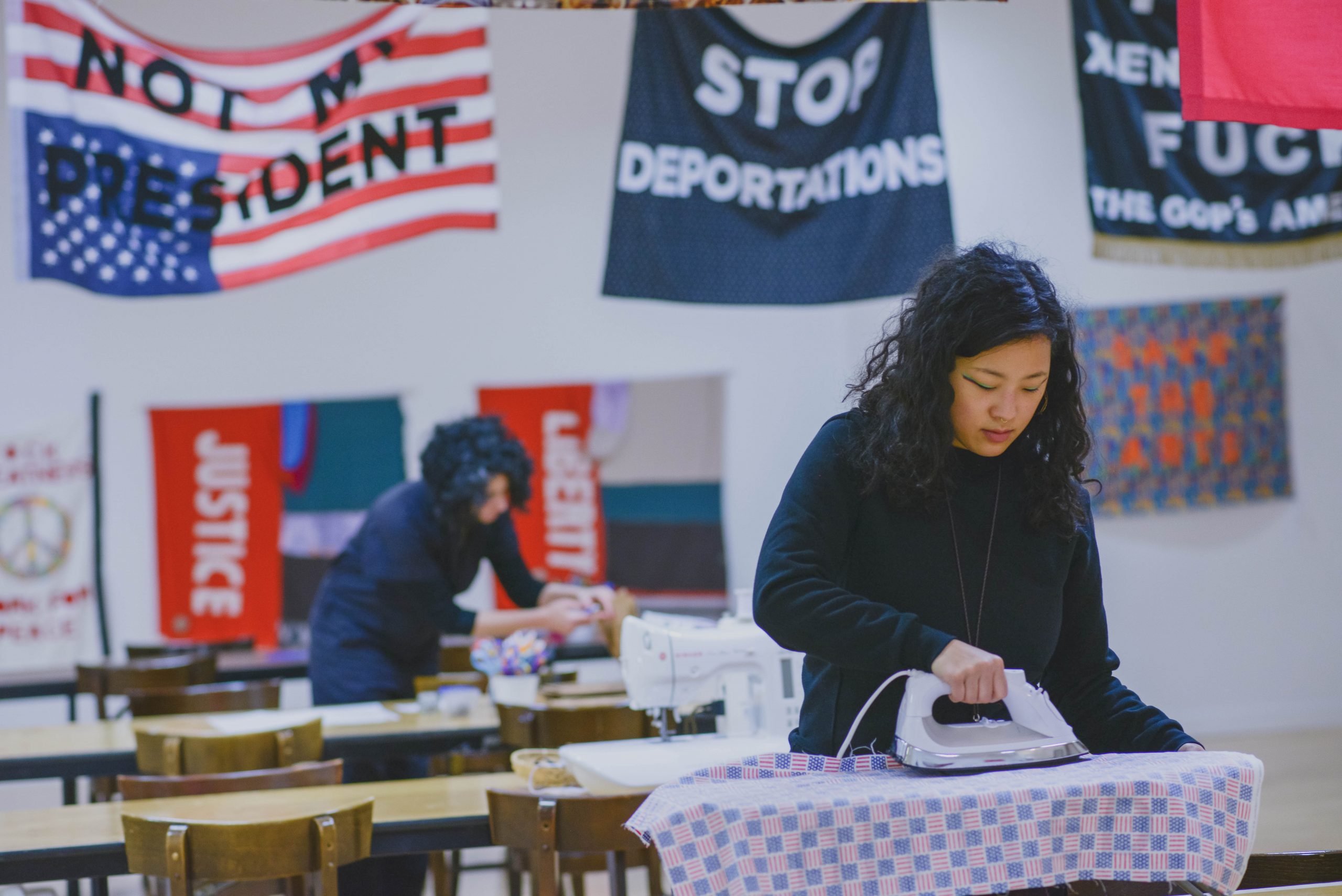 Sifuentes' socially engaged work is grounded in the importance of civic engagement and belonging while creating materially rich projects in an art world environment that is purposefully accessible for the oppressed others to combat local and even global issues. Sifuentes confronts social and racial injustices against those disenfranchised by official institutions and bureaucratic processes and seeks to redefine new, inclusive, and humanized systems. Rather than creating art by herself, Han Sifuentes develops large-scale projects for many communities to be part of. She creates participatory environments where it is safe for immigrants, a place for skill-sharing that many can contribute to. Through her work, she provides a space for empowerment, subversion, and protest―a place for minorities to have a voice in a world that seeks to silence them.
"Some people say my parents should be appreciative of the opportunities given to them [as immigrants]…I don't see it this way. I see it as an exploitation of immigrant labor to keep the cost of handwork and manual labor low in this country"
To build community in the wake of the 2016 presidential elections, Han Sifuentes began making protest banners in her apartment. Originally done with her friends, soon Han Sifuentes began doing banner-making workshops for the public. She built community as a form of resistance, where even those who are unable to go to protests can make their voices heard. The Protest Banner Lending Library became a public exhibition and installation in various locations throughout the United States in 2016 and 2017.
In workshops, people are shown and encouraged to create their own banners. Basic sewing skills are taught, and attendees craft their own phrases to put on banners. Once the participants have made the protest banners, they are entered into the growing collection within to be used in protests. Protestors can check-out a banner and use it for however they see fit and the banners can be returned at any time without penalty.[1] People use the banners they create in protests themselves or donate their work to the library.
Han Sifuentes provides an outlet for people who want to be part of a movement but may not feel safe attending protests. Participants artistically express their opinions in banners.[2]
"The Protest Banner Lending Library 'is a space where people come together in solidarity through making'"
People crafting and sewing fabric to create protest banners allows for more sustainable use of materials since fabric is more durable than the traditional paper and cardboard used for protest signs and banners. Participants unite with each banner as they travel to various places at various times, under one movement, fighting for disenfranchised people.
---
About the Artist
Aram Han Sifuentes is a social practice, fiber, and performance artist whose work confronts racial and social injustice, particularly as it affects immigrants of color. Born in Seoul, South Korea, Han Sifuentes immigrated to the US with her family as a young girl. Her work centers around skill-sharing and group-based art, employing sewing as a means of civic engagement and resistance. Han Sifuentes learned to sew at the age of six, helping her mother make a living as a seamstress. Thus, Han Sifuentes' art is informed by her upbringing. Sewing became a politicized act for Han Sifuentes, a part of her identity as an immigrant of color and a skill that she has passed on to others through her workshops. She uses sewing as a medium to interrogate identity politics, immigration and immigrant labor, possession, and dispossession of citizenship and belonging, dissent, protest, and race politics in the United States.
Through her Protest Banner Lending Library, Han Sifuentes has hosted sewing workshops across the country, allowing people to protest the 2016 elections safely and without restraint. In her U.S. Citizenship Test Sampler workshop, she empowers immigrants by giving them a space to practice for the U.S. citizenship test. As an artist, Han Sifuentes states that her goal is "to disrupt, unsettle, and rupture dominant narrative to assert, demand, and claim space for those who are commonly 'othered'."[3] With her art, Han Sifuentes continues to give voice to disempowered people, to allow their struggles and experiences to be visualized and communicated on both an individual and collective level.
Aram Han Sifuentes earned her BA in Art and Latin American Studies from the University of California, Berkeley, and her MFA in Fiber and Material Studies from the School of the Art Institute of Chicago. She is a 2016 Smithsonian Artist Research Fellow, 2016 3Arts Awardee, and 2017 Sustainable Arts Foundation Awardee. Her work has been featured in numerous locations, such as the Pulitzer Arts Foundation (St. Louis, MO), Jane Addams Hull-House Museum (Chicago, IL), Hyde Park Art Center (Chicago, IL), Chicago Cultural Center (Chicago, IL), Asian Arts Initiative (Philadelphia, PA), Chung Young Yang Embroidery Museum (Seoul, South Korea), and the Design Museum (London, UK).
Aram's Reading List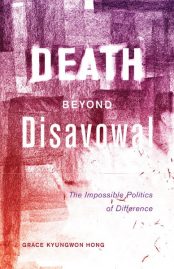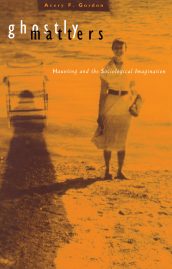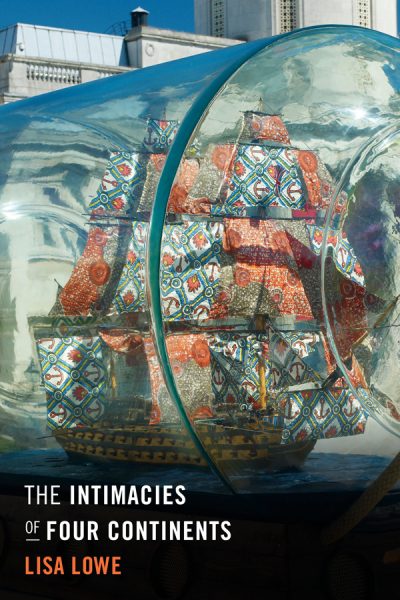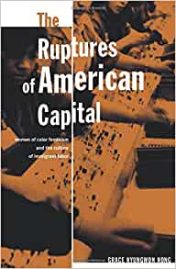 2020 Unofficial Official Voting Booth Playlist
---
This Spotlight module was curated by DePaul University Critical Ethnic Studies MA student Lennex Cowan Summer 2020 with additional research by DePaul University undergraduate students Melissa Aguinaldo, Mackenzie Farel, Tuyết Anh Lê, Melina Medina, Lily Nelson, Gertrude Palillo, Sabrina Salvador as part of Professor Laura Kina's Spring 2020 course AAS 203/ART 395 Asian American Arts and Culture.
Sources:
[1] Sifuentes, Aram Han. "Aram Han Sifuentes visiting artist talk." Zoom, AAS 203/ART 395 Asian American Arts and Culture class with Professor Laura Kina, DePaul University, Chicago, IL, April 20, 2020.
[2] Aram Han Sifuentes artist website. https://www.aramhansifuentes.com/
[3] Aram Han Sifuentes interview with Yanessa Rodriguez, Asian American Art Oral History Project, DePaul University, 2016. https://via.library.depaul.edu/oral_his_series/70/