Story:
My dad worked during the '60's and '70's as a chef at Trader Vic's, an upscale nightclub/restaurant in the basement of the Palmer House Hilton in downtown Chicago serving trademark Tiki cocktails while offering Americanized Cantonese cuisine disguised as posh Polynesian fare. For special occasion banquets, his specialty was roasting the "big pig," whole with an apple in its mouth. And it came as no surprise really that I as the Number One Son would inherit his barbequing gene given how the proverbial apple from the big pig's mouth doesn't fall far from the family tree…
So the origin of my recipe is circuitously linked to his employment there, as two decades later, when I was doing my MFA at the School of the Art Institute of Chicago whose scattered site campus is right across the street from Trader Vic's, I met the other player in this narrative, my buddy Mark Werle finishing up his BFA at the same, both of us indulging in the half-price Mai Tai Happy Hour every Thursday, replete with free pupu platters of crab rangoons, egg rolls, BBQ spare ribs and if lucky, rumakis. Trading Trader Vic's stories, we learned that our parents, my Chinese father and his Korean mother worked together, one in the kitchen, the other in the dining room for years as our shared tastes from shared likes formed shared experiences ultimately resulting in Mark sharing his mom's secret ingredient of adding a can of Dr. Pepper to marinate kalbi. This caramel-colored nectar of the gods tenderizes the short ribs, and releases the sugars of the thinly sliced pear to sweeten the marinade for grilling.
With the coming together to grill and eat delicious kalbi also comes the need for the perfect drink as accompaniment. What recaptures the beauty of those magical moments before Trader Vic's closed down than their iconic Mai Tai? Its smooth but sharp lime twang, an ideal complement.
---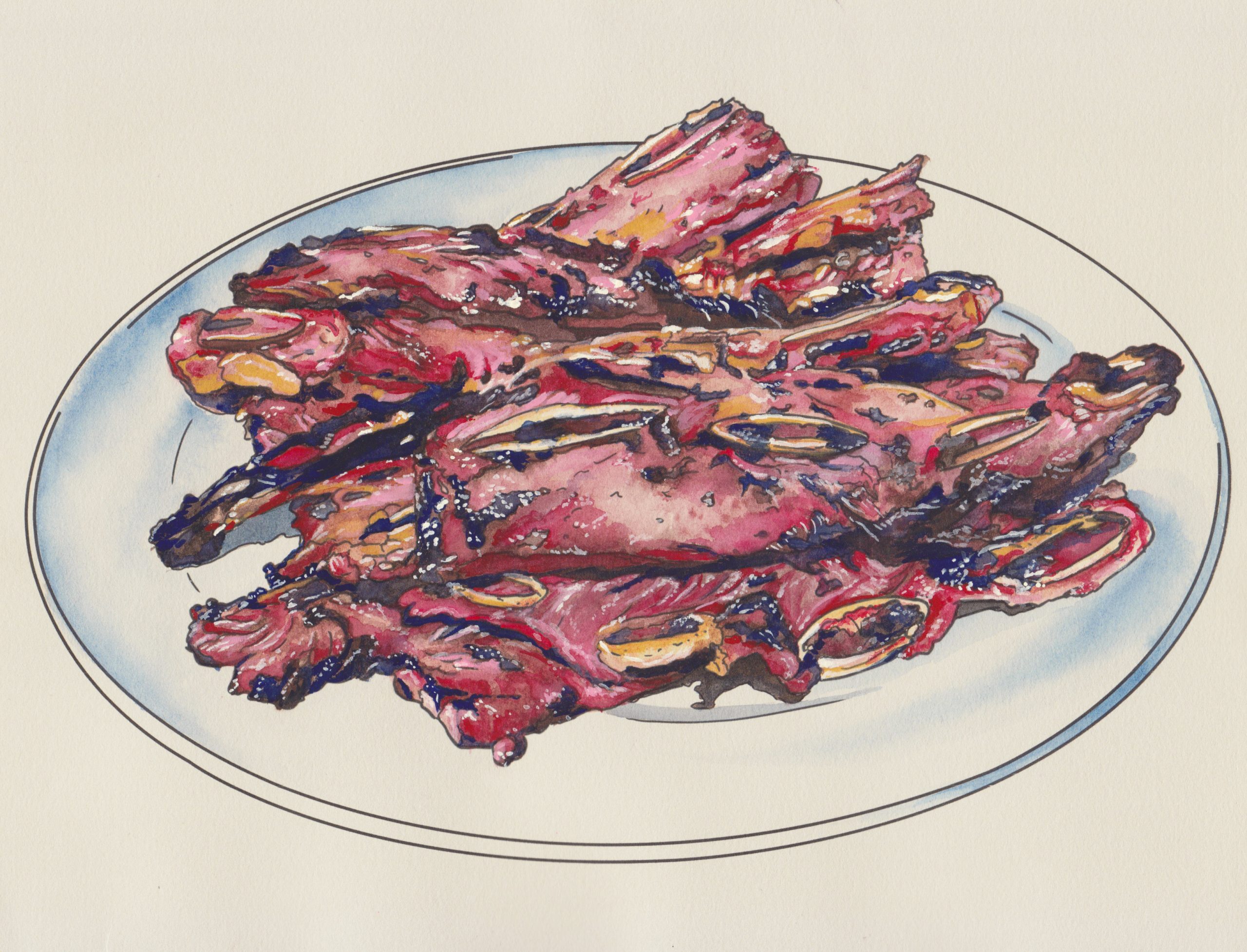 "I'm a Pepper, you're a Pepper, wouldn't you like to be a Pepper, too" Chicago/LA kalbi marinade/serenade
Ingredients:
1 cup or so soy sauce
1 yellow onion diced or grated
3/4 cup brown sugar packed
3-5 garlic cloves minced
2 tablespoons of sesame oil
1/4 cup or so white wine (dry, such as Sauvignon Blanc)
couple of healthy shakes of black pepper
Directions:
Mix all of above together and pour into a bag or pot with short ribs then add 1 pear (ideally Asian pear) quartered and thinly sliced and 1 can of Dr. Pepper.
Refrigerate for at least 3-6 hours if not longer.
As you know, I usually eyeball rather than precisely measure so above should be decent enough amount of marinade for maybe 5 pounds of short ribs but okay to alter ratio or sometimes when Lar be lazy, I use any store-bought jar of kalbi marinade and add the pear and Dr. Pepper.
Just as good if not gooder.
---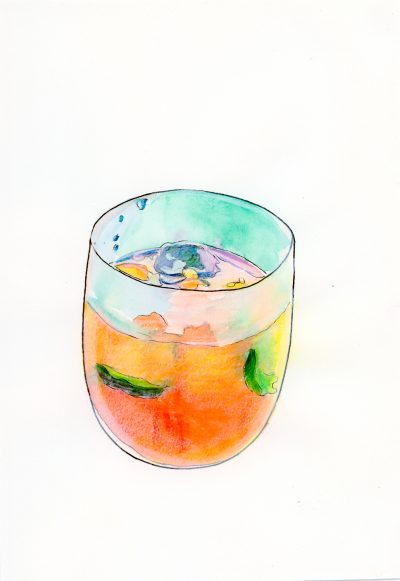 Trader Vic's Mai Tai
circa 1944
Ingredients:
1 ounce amber Martinique rum
1 ounce dark Jamaican rum
1 ounce fresh lime juice
1/2 ounce orgeat syrup
1/2 ounce of Cointreau
garnish with mint (a lime if you like)
Directions:
Add all ingredients to a cocktail shaker, except the garnish. Shake and strain into a rocks glass filled with crushed ice. Garnish with fresh mint and a lime if you fancy that. You can also float some dark rum on top of the cocktail.
Larry Lee is a multimedia artist, independent curator, and writer who earned his Bachelor of Fine Arts from the University of Illinois at Chicago and his Master of Fine Arts in Sculpture at the School of the Art Institute of Chicago where he also teaches Art History, Theory, and Criticism.

His practice includes sculpture, video, installation, and painting that "remakes" his personal history in specific and the Asian American experience in general into stylized multimedia objects and images he facetiously terms "orientalia". His work has been exhibited in Chicago at the Chicago Cultural Center, Gallery 400, and Evanston Arts Center as well as in New York City, San Francisco, Philadelphia, Dallas, Houston, Cleveland, New Haven, and Glasgow, Scotland. In addition to his curatorial project, Molar Productions, Lee collaborates with the painter Jason Dunda to perform as "The International Chefs of Mystery!" in a long-running video series available on Vimeo.

https://www.larryleechicago.com

Larry Lee, Cooking The Books (with Jason Dunda), 2011. Videography, Sound and Post Production by Joshua Slater. RT 25 minutes.

Part two following up the inaugural but little-seen Boos and Bakin', your favorite so-called International Chefs of Mystery! Larry Lee and Jason Dunda return a year later and stir up trouble literally cooking the books this time for The toy formerly known as…, yet another summer group show at slow gallery in Chicago.